Population Trends
Census figures show Connecticut's population grew from 3,287,116 in 1990 to 3,405,565 by the year 2000.
Connecticut's modest 3.6 percent population gain was the fourth lowest among all states. Only North Dakota, West Virginia and Pennsylvania had lower population growth rates during the last decade.
One result of Connecticut's low population growth was its loss of a congressional seat. Since the apportionment from the 1930 census, Connecticut has had six seats in the House of Representatives. Connecticut will now send only five members to the House.
Connecticut's population has aged over the last decade. The median age for state residents increased from 34.4 in 1990 to 37.4 in 2000. The country showed a similar trend but for a somewhat younger population; the national median age increased from 32.9 in 1990 to 35.3 in 2000.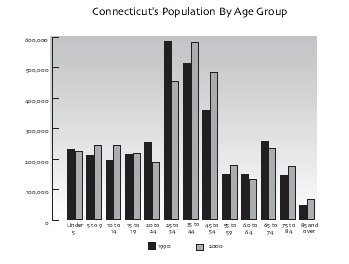 The state's younger population -- 19 and under -- grew at a faster rate than its elderly -- those 65 and over. However, a significant upward shift in age within the large population group from 20 to 65 accounted in large measure for the rise in Connecticut's median age.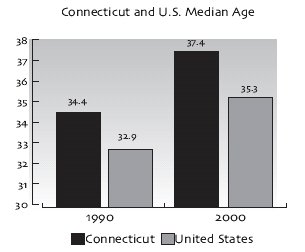 Connecticut growing racial and ethnic diversity is also reflected in the 2000 census. All racial categories of the non-white population have increased. The Hispanic or Latino population, which can be of any race, has also increased.

Four of Connecticut's five largest cities, those with over 100,000 residents, experienced a population decline during the last decade. Bridgeport, Hartford, New Haven and Waterbury had an average population loss of 5.5 percent.
Of the largest cities, only Stamford showed a population increase of 8.4 percent. Many of the state's smaller communities experienced the largest growth rate. Fifty-eight Connecticut towns grew by more than 10 percent last decade. Their average population was 10,300 in 1990 and 11,900 in 2000.