| | |
| --- | --- |
| The Comptroller's Report | Nancy Wyman - State Comptroller |
Health Coverage:
Economic Downturn May Erode Recent Health Coverage Gains
In the past several years Connecticut has experienced a decline in the percentage of residents who lack health insurance. This trend has largely been due to a strong state economy and low levels of unemployment. Until recently, Connecticut's tight labor market encouraged more employers to offer health benefits to help attract and retain qualified workers.
When measuring the uninsured population, health care analysts often focus on the non-elderly population (those under age 65) since virtually everyone age 65 and above is covered by Medicare.
Using this approach, the Employee Benefit Research Institute estimated that 9.3 percent of Connecticut's non-elderly population was uninsured in 2000 compared to 11.3 percent in 1999.
Connecticut's rate of non-elderly uninsured residents (9.3 percent) was lower than both the national average (15.8 percent) and New England regional average (10.2 percent).
However, two of the six New England states fared better than Connecticut on this measure - Rhode Island at 6.9 percent and New Hampshire at 7.8 percent uninsured.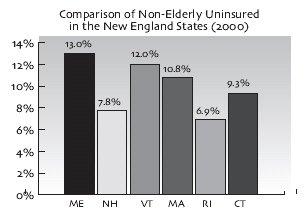 Most non-elderly Americans receive their health coverage through the workplace - either their own employer or a family member's. The rest with insurance are covered either through public programs, including Medicaid, or by purchasing coverage as individuals in the private marketplace.
Connecticut residents have traditionally relied even more heavily on employer-based coverage than the New England region or the nation as a whole. As the accompanying table indicates, that trend continued in 2000.

Health policy analysts are predicting a rise in the uninsured population in the near term, based primarily on the convergence of two trends. The first is the weakening economy, both on the state and national levels. The current recession has produced a significant increase in the jobless rate. Studies of past recessions have shown that the loss of a job often means losing health coverage.
The second trend is rising health care costs. Medical inflation has been increasing sharply in recent years after a period of relative stability in the mid 1990s. As health benefits get more expensive, employers tend to shift more of the cost onto employees and some may stop offering coverage altogether. For their part, workers - especially low wage earners - are less likely to accept offers of coverage when costs rise because they cannot afford the employee portion of the insurance premium.
A recent survey by the human resource consulting firm William M. Mercer indicates that health benefit costs continued to increase for employers in 2001 and show no sign of slowing. More than 2,800 employers participated in the firm's nationwide survey and the following are among the findings:
The average cost of health benefits rose 11.2 percent in 2001 for employers with ten or more workers. This increase, which comes after an 8.1 percent rise in 2000, compares to a 2.1 percent general rate of inflation.
The forecast for 2002 is no better. Employers expect their health benefit costs to rise by an average of 12.7 percent, with some predicting increases of 20 percent or more.
In 2001, smaller employers began shifting more costs onto their workers. In 2002, it appears large employers will do so as well. Forty percent of large employers responded that they would require workers to pay a higher percentage of the total cost in the upcoming year.
Health benefit costs varied widely by region. In 2001, the overall average cost per employee was highest in the Northeast ($5,469), followed by the Midwest ($5,088), the South ($4,643) and the West ($4,538).
Despite the recent decline in Connecticut's uninsured population, many state residents still lack health coverage and the vast majority are from working families. In addition, the downturn in the economy and rising health costs will likely erode health coverage levels in the near future.